Sambazon
Posted on Tuesday, October 9th, 2012 at 11:25 am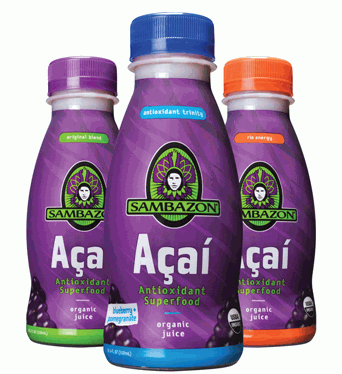 Grown in the Brazilian rainforest, acai berries are quickly becoming a popular superfood in the US. The founders discovered the health benefits and great taste of these tasty berries back in 1999. Their search for a way to introduce these delicious berries to the US resulted in their line of acai berry juices, protein drinks, frozen goods, all-natural energy drinks and supplements. All of their products are made using organic ingredients free from genetic modification. Their delicious acai berry juices, smoothie mixes, and sorbet are designed to deliver tons of antioxidants and nutrients in a great tasting package! Sambazon's protein drinks and "Supergreens" drink are designed to help you get all of those essential nutrients while you're on the go.
In addition to creating delicious drinks and products, Sambazon is equally committed to the environment and their community. They source fair-trade berries from the Amazon Rainforest, and are constantly ensuring that every farmer and producer is treated respectfully and paid fair wages.
Sambazon drinks and smoothie packets sell for around $3.00 to $4.00. Prices may vary in individual stores. Visit the official Sambazon website for information on where you can find any of their products in a store near you. Sambazon operates out of San Clemente, California.