Win a $50 GAP Gift Card + Save 40% OFF #SavingsGapGiveaway
Posted on Monday, May 18th, 2015 at 9:55 am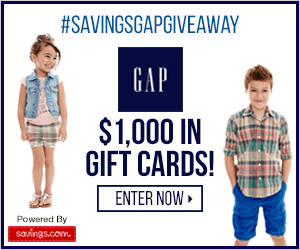 Savings.com is giving away $1,000 worth of gift cards to the GAP! 20 winners will receive a $50 gift card to the GAP! Go HERE to enter yourself now!
Giveaway Details:
Monday, May 18th at 12:00 AM ET to Thursday, May 21st at 11:59 PM ET.
Twenty (20) winners will receive a $50.00 gift card to the GAP.
Users can enter the giveaway by heading to the GAP page on Savings.com and submitting their email address on the form at the top of the page.
The winners will be chosen via a lottery drawing and notified on Tuesday (5/26) via the email address they used to enter.
See complete Official Rules for entry instructions, full prize descriptions, restrictions and other important details.
Stock up on some great clothes for the summertime with the Summer Kickoff Event!
Get Up to 40% Off + Daily Deals at Gap.com!
Monday, 5/18 ONLY
$20 Select Adult Shorts
$10 Select Kids, Toddlers and Babies Shorts
I just love the casual, everyday styles of GAP, especially these shorts on sale Monday:
Tuesday, 5/19 ONLY
$25 Select Womens Dresses & Skirts
$15 Select Kids, Toddlers and Babies Dresses & Skirts
Wednesday, 5/20 ONLY
$8 Select Adult Tees, Tanks & Layers
$6 Select Kids, Toddlers and Babies Tees, Tanks & Layers
Exclusions apply
5/18/15 through 5/20/15